这是午夜时分中国浙江省杭州市一家大型医院的急诊中心,和所有医院的急诊室一样,生命在这里就像监控仪上的曲线,纤细而又瞬息万变。这一幕幕,仿佛世间百态的一个缩影。(摄于2012年和2014年)
This is an emergency center of a large hospital in Hangzhou, Zhejiang province, China.  Everything runs the same as daytime at midnight, many lives change every minute.  The emergency room is just a miniature of our society. (2012+2014)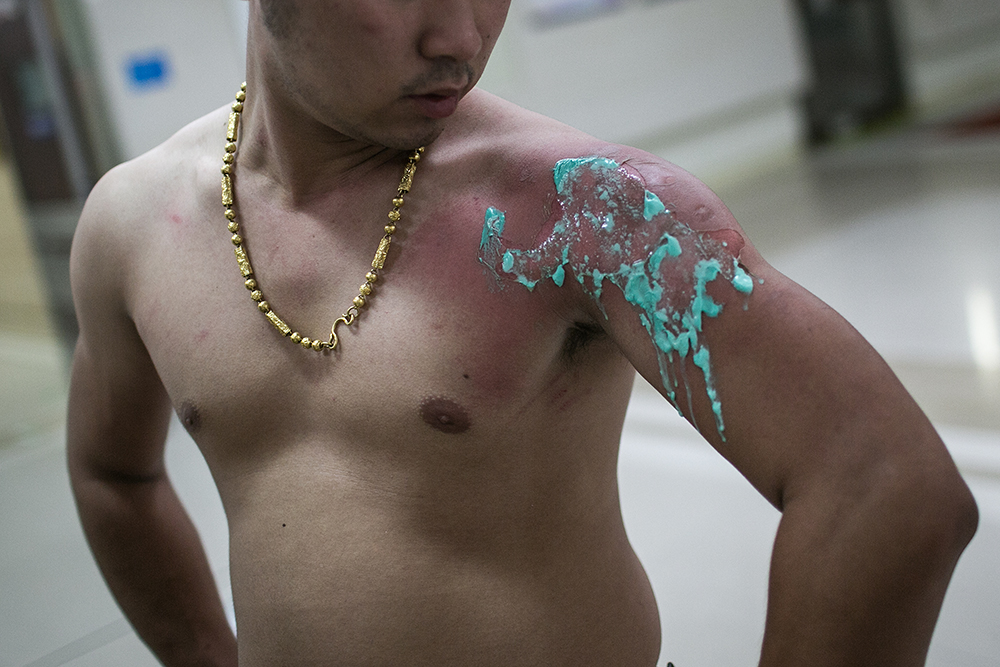 一名男子的手臂被热水烫伤,他在伤口上涂了些牙膏,赶来就诊。
A man put some toothpaste on his arm which was scalded by hot water.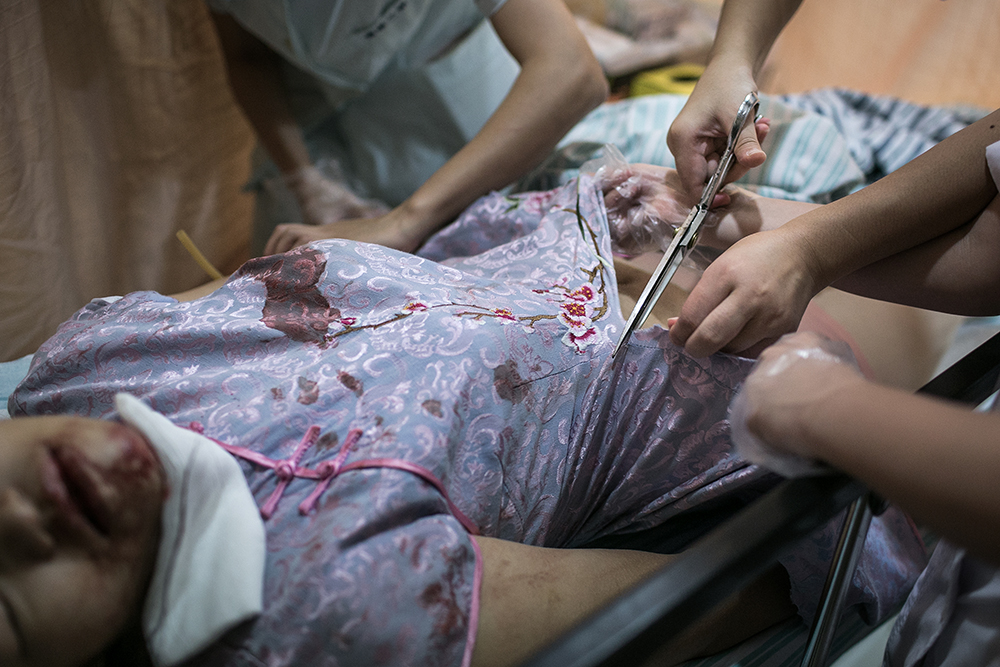 一位在车祸中受伤昏迷的女子,身上的旗袍没办法脱下,护士只能用剪刀把旗袍剪开后,才得以进行抢救。
A woman injured in a car accident is in a coma, her cheongsam can't be taken off.  Rescue did after the nurse cut the cheongsam with scissors.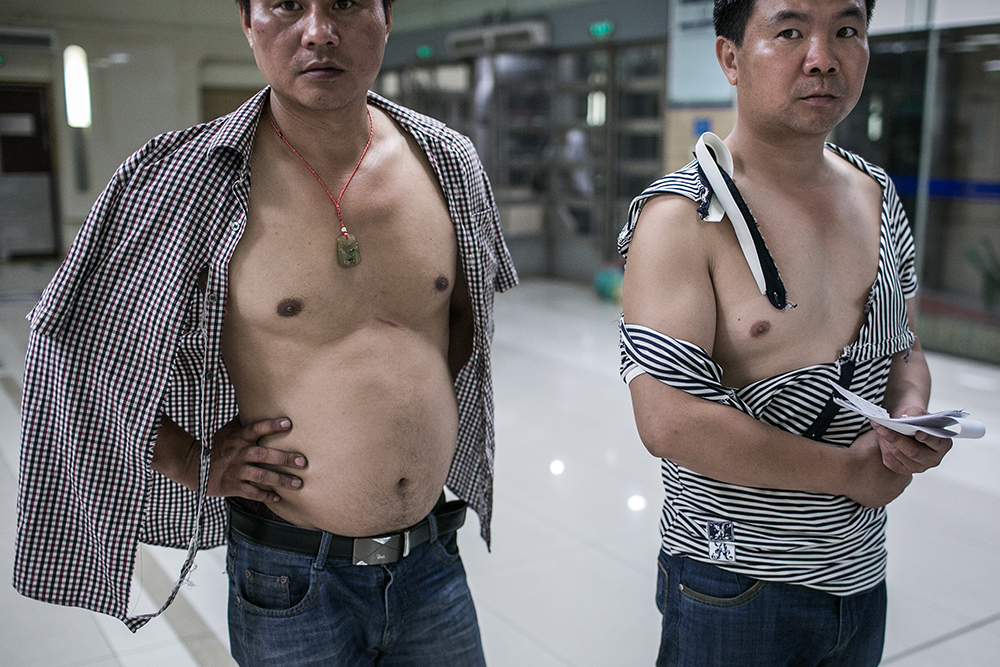 两名衣衫不整的男子在急诊大厅排队挂号,他们和别人打架,衣服被撕烂了。
Two disheveled men queue up in the emergency room. They fought with others, their clothes were torn up.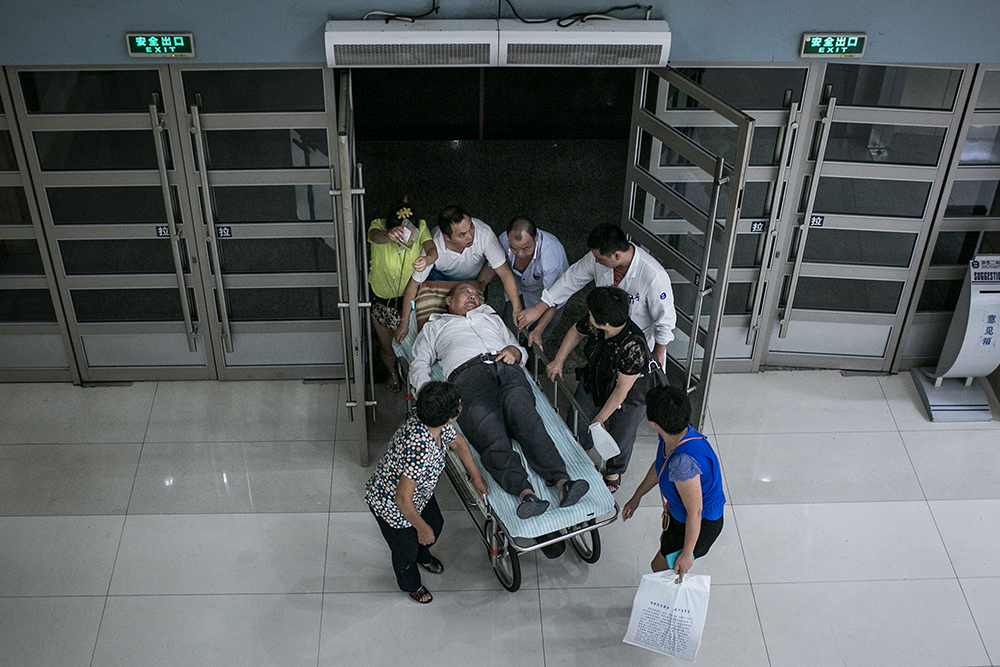 一名87岁的老人因心肌梗塞发病,家人开车将他送来就诊。
An 87-year-old man is sent to hospital by his families because of a heart attack.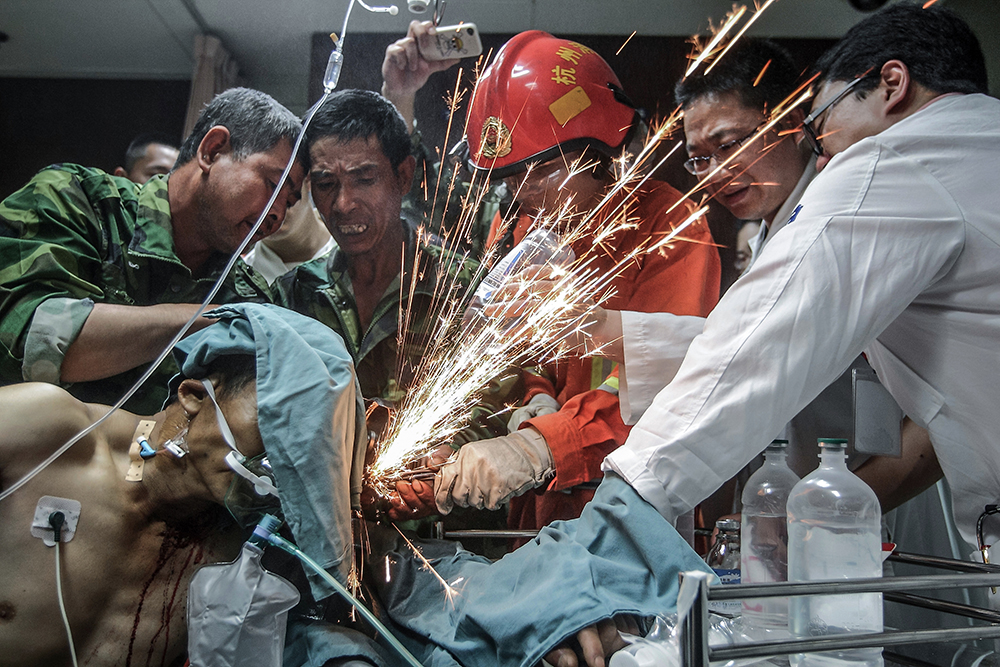 工友、消防员和医生齐力对插入农民工郑师傅身体的七根钢筋进行切割。
Fellow workers, a firefighter and doctors work together to cut steel bars which were pierced through a worker's body during an operation.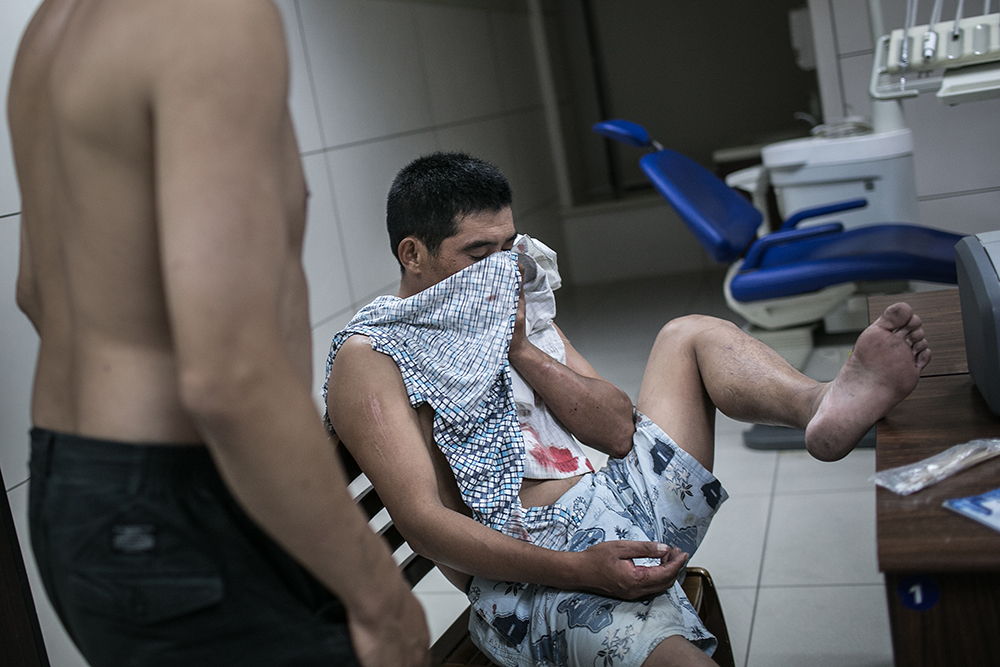 一名醉汉用衬衫捂着受伤的鼻子,他喝醉酒后骑车摔倒受的伤。
A drunk covers his nose with a t-shirt.  He fell down after he got drunk.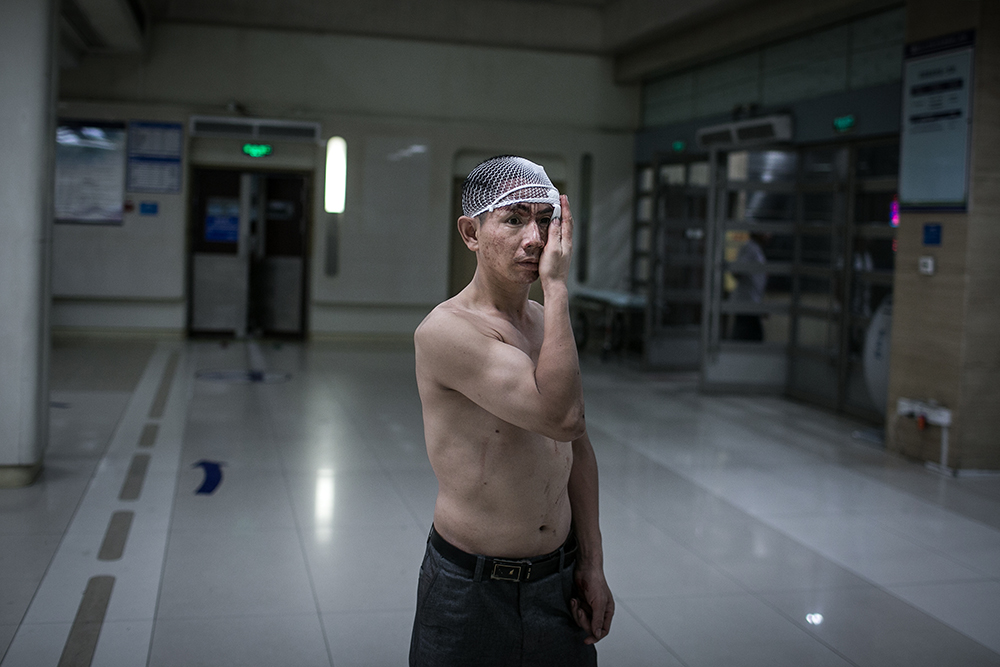 一名男子站在急诊大厅,等待同伴缴费取药。  晚上他骑车回家时,为避让一辆工程车,连人带车掉进了路旁的水沟,头部和左脸擦伤。
A man who hurt his face and head in an accident standing in the emergency room, waiting for his friend who went to get the medicine for him.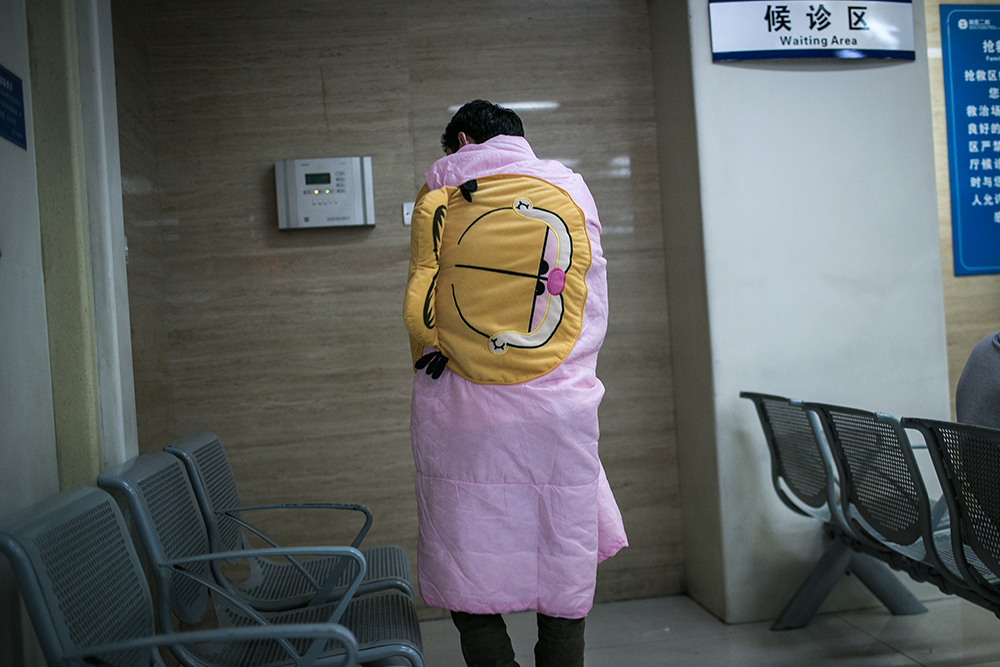 一名患者家属失眠了,裹着一块印着加菲猫图案的被子,在急诊候诊区里来回走动。
A family member of a patient wrapped himself in a blanket, pacing back and forth in the waiting area of the emergency department because of insomnia.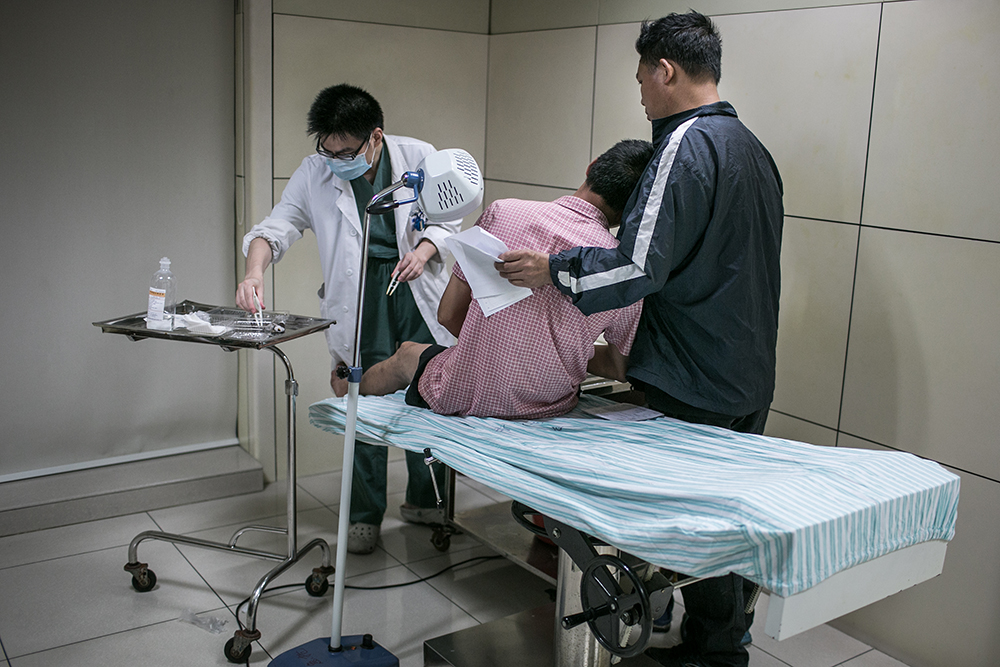 医生在为一名走路撞到垃圾箱大腿被划伤的患者进行清创处理,他疼得嗷嗷直叫,工友在一旁安慰他。
A doctor takes care of the wound for the patient who scratched his legs. The patient cries and his friends try to comfort him.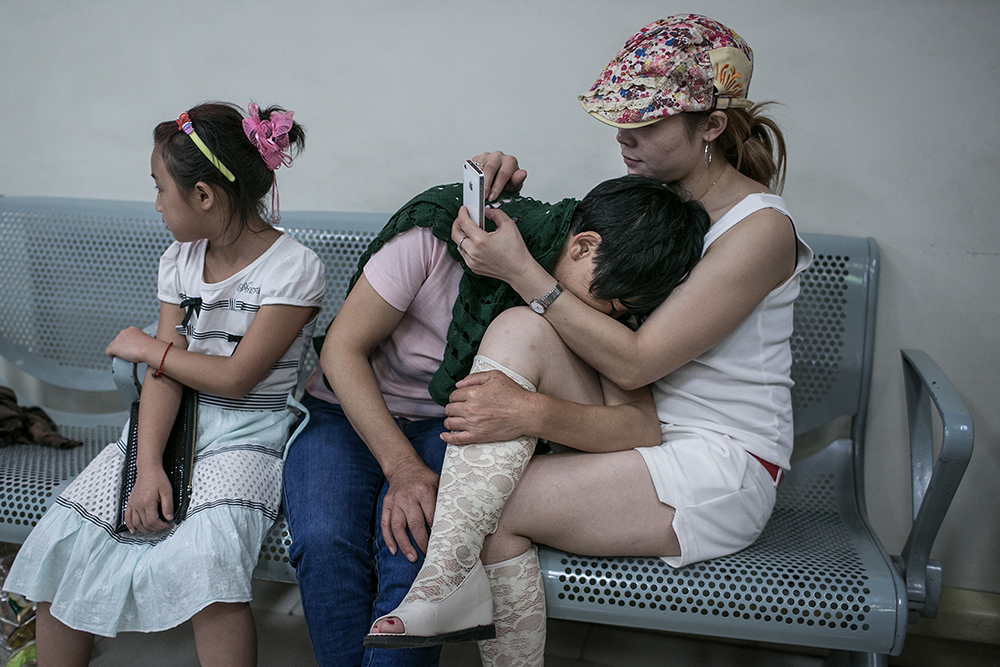 一名女子抱着母亲在等CT结果,一边玩着手机。
A woman holding her mother is playing cell phone while waiting for the CT result.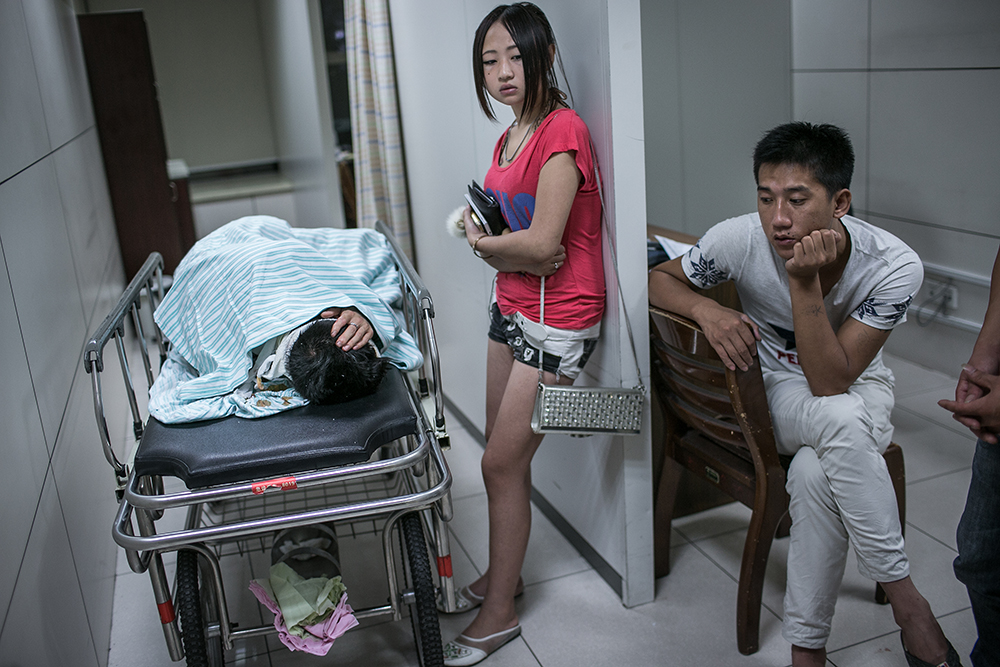 一名28岁的小伙,骑电动车被公交车撞了,头部受伤,老婆和朋友随后也赶来陪护。
A 28-year-old boy who was knocked down by a bus while riding a electric bike hurts his head, his wife and friends come to accompany him as soon as they know that.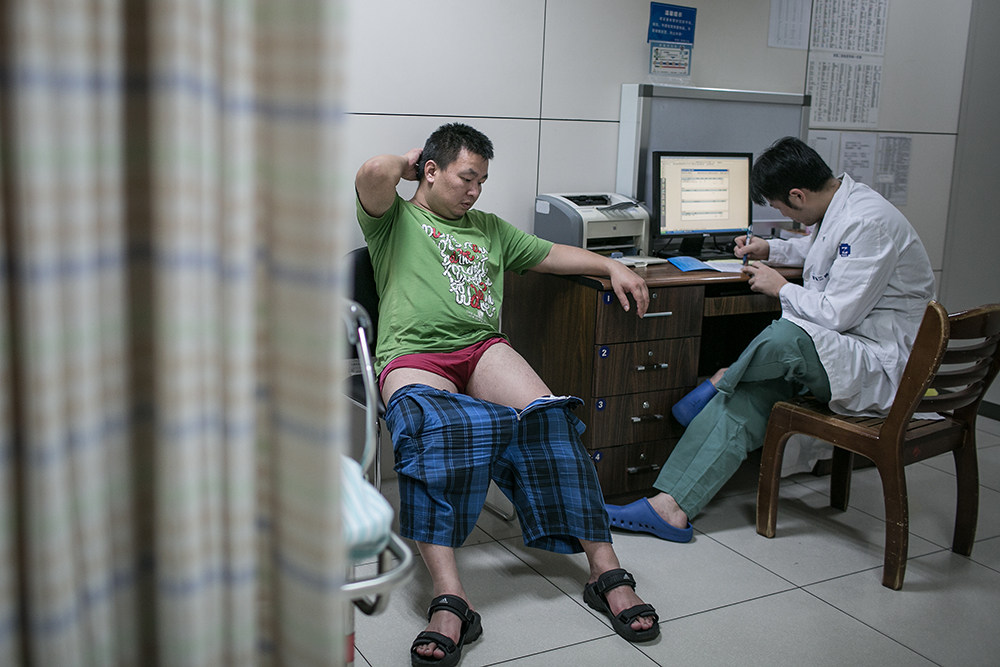 一名被烫伤大腿的患者,从外地转来就诊,他脱下短裤,给医生查看伤情。
A man takes off his pants to let the doctor check his scalded legs.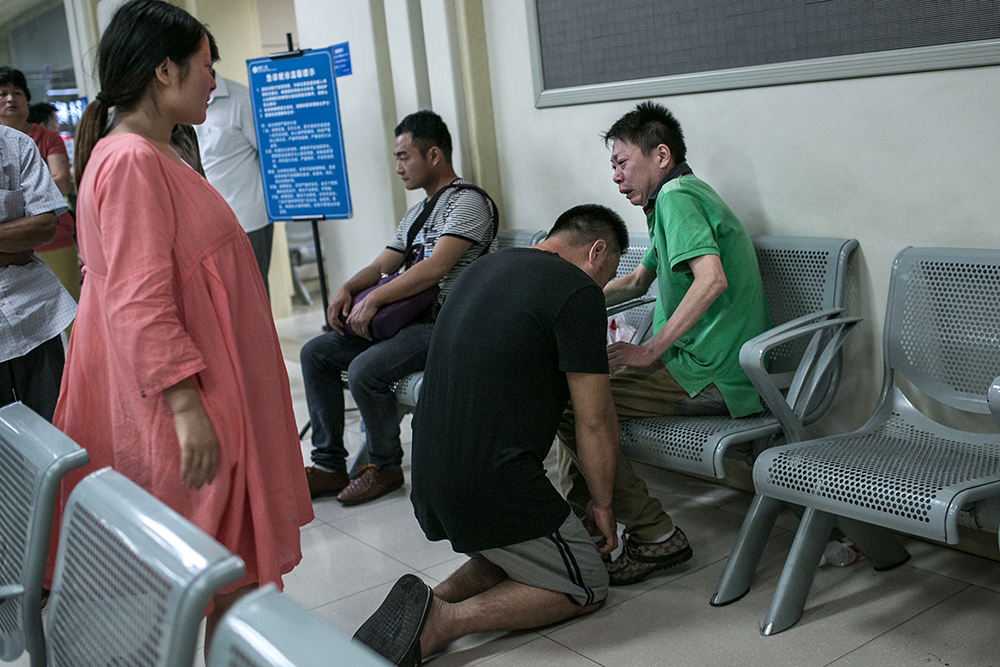 一起车祸的肇事司机向死者儿子跪下,请求他原谅。
The driver knees down and ask the son of the deceased for forgiveness.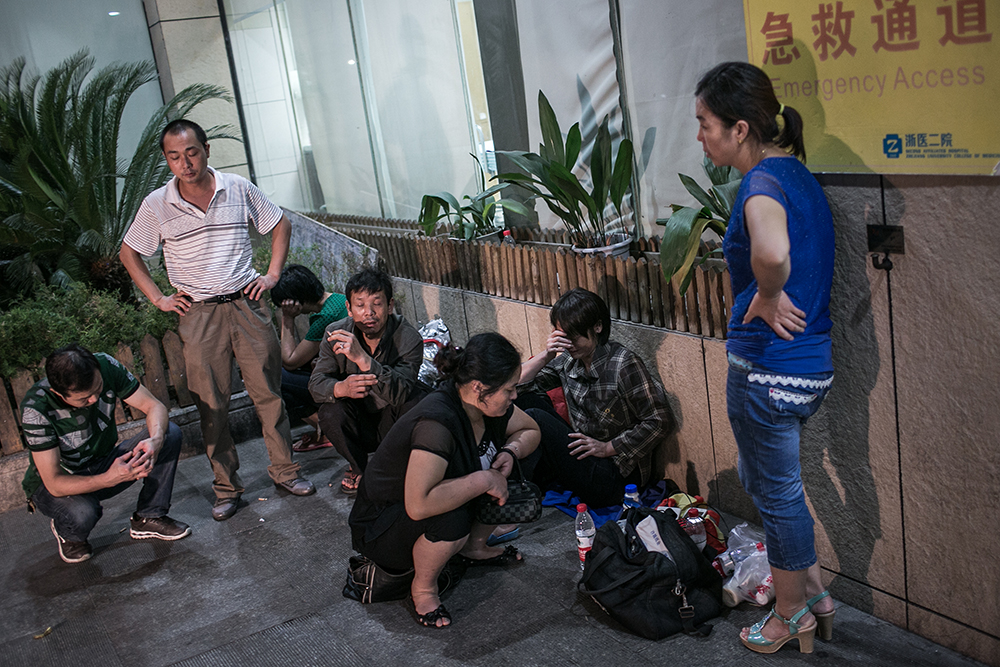 几名家属在急诊中心门外沉默不语。  掩面哭泣的女子说,她丈夫在工厂上班时,被一个从高处落下的铁块从砸中头,伤势很重。
Some people wait silently outside the emergency department because one of their relatives working in the factory was hit by a piece of iron, badly injured.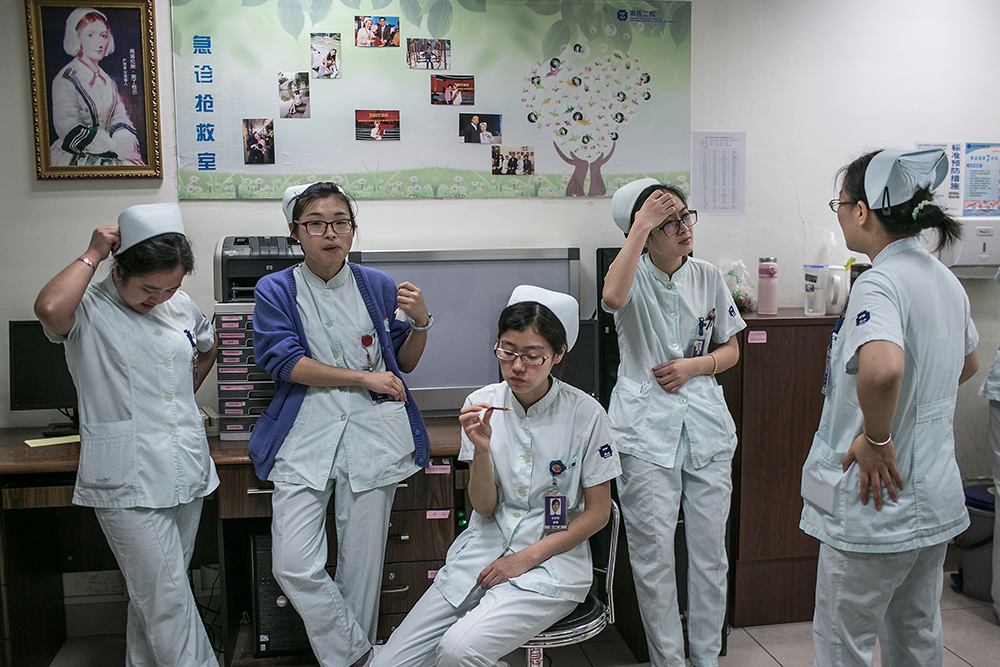 凌晨2点,交班结束的前夜值班护士,终于可以歇一会儿,放松一下,准备下班。
The nurses finally get to take a rest before getting off work on two o'clock in the morning.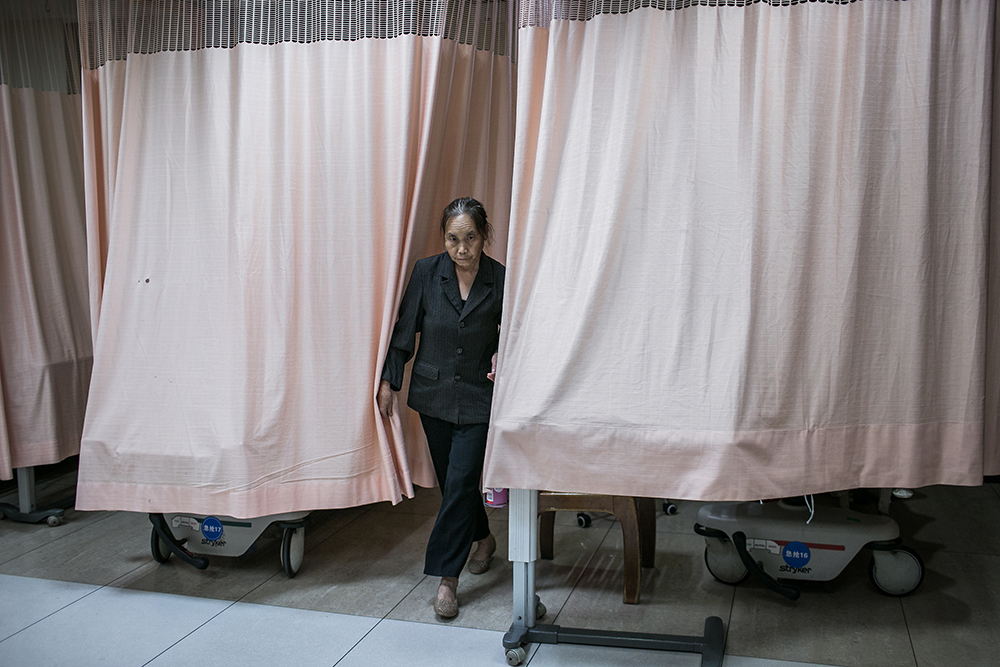 急诊抢救室,一名家属从床边走出,为了患者治疗不受外界干扰,护士把床帘拉上了。
In the emergency department, a family member came from the bedside, to patients without outside interference, the nurse drew the curtains.